BUILDING PERSPECTIVES
WEBINARS FOR PROFESSIONAL DEVELOPMENT
Building Perspectives is a series of free live webinars with UCEM experts and sector specialists.
Join us for topical conversations around the built environment and sustainability.
HOW CAN GENDER EQUALITY DRIVE A SUSTAINABLE BUILT ENVIRONMENT?
WHAT DOES IT TAKE TO GET TO THE TOP?
Sustainability Webinar – 13:00-13:45 (GMT), 10 February 2023
The second webinar of the series will look at how science and gender equality are vital for the achievement of a sustainable built environment.
Exploring what it takes to get to the top as a female in the construction industry, our eminent speakers will share their stories and how the plight for gender equality continues. They will discuss how the barriers can be addressed and where influence and policy can play their part.
Are female construction employees still fraught with prejudices?

How does the construction industry measure up to equal pay and the glass ceiling?

With 37% of students being female on built environment-related programmes, why does this translate to a mere 14% female workforce in the UK?

What difference can gender equality make to sustainability?
Join us to discover more and as International Day of Women and Girls in Science is the following day (11 February) take the opportunity to celebrate the critical role females make in science and the built environment.
Amanda Clack MSc BSc PPRICS FRICS FICE FAPM FRSA FIC CCMI CMC Partner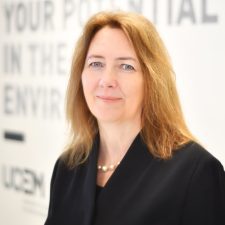 Regional CEO – EMEA, HKA
Amanda Clack is the UCEM Chair of the Board of Trustees and Regional CEO – EMEA.
Sandi Rhys Jones OBE, FCIOB, MIPR, MCIM, ACIArb
Senior Vice President, CIOB
Sandi Rhys Jones began her career in construction, property and engineering as a journalist, working for a variety of technical organisations before forming her management and marketing business. She has worked for contractors, consultants, suppliers, representative organisations and government, both in the UK and overseas.
She developed and delivers a cross-disciplinary national mentoring programme at Women in Property and leads on Public Affairs, representing the organisation on two All Party Parliamentary Groups. She was appointed OBE in 1998 for her work in promoting women in construction. Sandi is a Fellow of the Chartered Institute of Building, a Fellow of the Women's Engineering Society and trained as a mediator after completing an MSc in Construction law.
INTERESTED IN SUSTAINABILITY?
NEW MASTER'S DEGREE PROGRAMME
From 2023 (subject to validation), UCEM will be offering a master's degree focusing on sustainability in the built environment. Exploring the challenges, perceptions and practicalities of sustainability, this professional qualification for senior leaders and managers, will develop the critical skills and language to influence others. It will conceptualise sustainability as a process and provide valuable insight into where to put effort, money and resources.
CPD WITH UCEM
UCEM's online academy offers a range of self-managed training and bite-sized courses for building environment professionals and practitioners.
REGISTER YOUR INTEREST
Please use this form to select which future events and programmes you would like UCEM to keep you informed about.